In Kyoto, we collaborate with private enterprises, such as bicycle rental businesses in the district of Arashiyama • Okazaki • Kawaramachi-sanjo • Fushimi area, in order to provide a free-of-charge wheelchair rental service, which enables visitors to safely enjoy sightseeing in the city.
Rental Information
There are no charges (rental is free of charge).
Wheelchair users must be accompanied by at least one helper each.
Rented wheelchairs must be returned to the rental bases (shops) where they were rented from.
Note that rental services may be cancelled due to bad weather.
Please see "Terms of Use for Kyoto Safe & Easy Wheelchair Rental System (PDF)" for details.
Rental Flow

The wheelchairs used in this collaborative initiative have been donated by the Kyoto Welfare Care Equipment Association (KWCA).
Also, the rental bases collaborating in this service in the Arashiyama area are "Rambler Rental Cycle", "Torokko-Ojisan-no-Rental-Cycle" and "Kyoto-shi-Arashiyama-Kanko-Chushajo" (Arashiyama Parking), Okazaki area is "kyo-no-rakuchari-higashiyama-sanjo", Kawaramachi-sanjo area is "Kyoto City Tourism Association", Fushimi area is "Fushimi Kan / Fushimi University".
---
Map showing Fushimi Rental Bases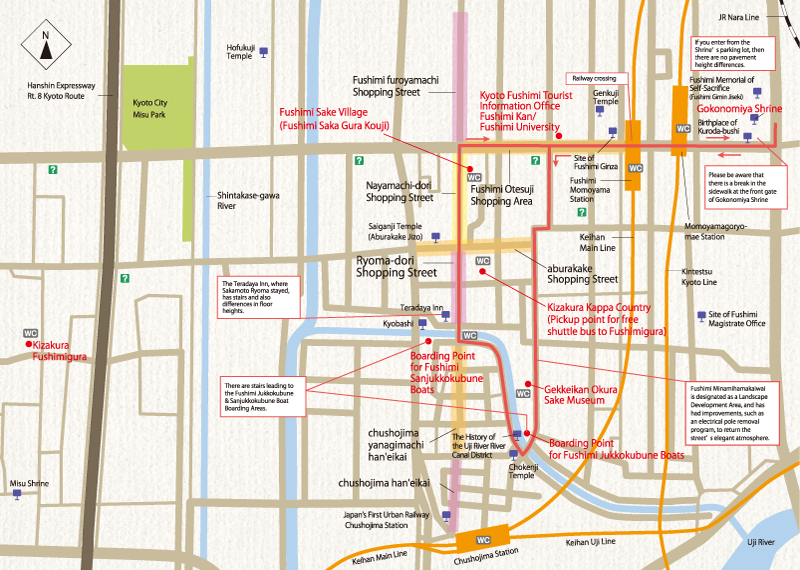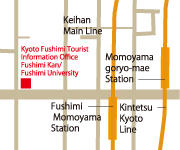 Kyoto Fushimi Tourist Information Office
Fushimi Kan / Fushimi University
Tourist Information in Fushimi Otesuji Shopping Area
TEL: 075-606-2406
AM10:00-PM6:00 (closed on Tuesdays)
---
Map showing Arashiyama Rental Bases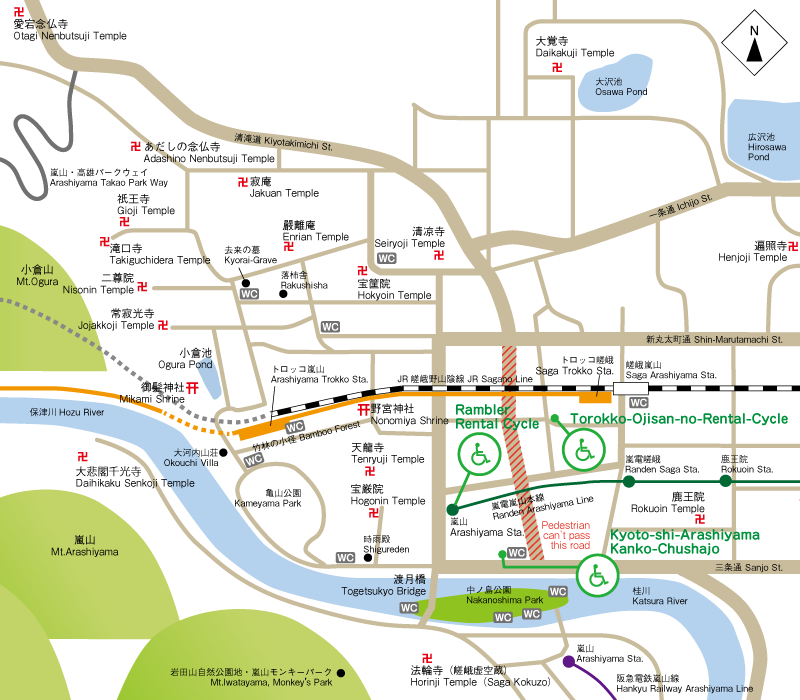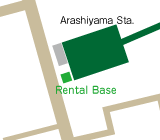 Rambler Rental Cycle
TEL: 075-873-2121
AM9:00-PM5:00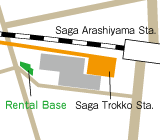 Torokko-Ojisan-no-Rental-Cycle
TEL: 075-881-4898
AM9:00-PM5:00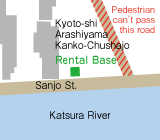 Kyoto-shi-Arashiyama-Kanko-Chushajo
TEL: 075-861-1215
AM9:00-PM5:00