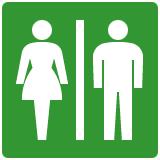 Toilets near Inui-gomon gate in Gyoen Gardens
9:00-16:00
These are the toilets on the west of the children's park and north of Inui-gomon gate. In the toilet building there are conventional toilets and one unisex universal toilet. These toilets also are equipped with baby bed, baby chair, kid's urinal and auxiliary toilet seat. (Month checked: 2014.Jun, )
Exterior/neighborhood
To enter the women's toilet, go up the slope and turn left. The men's toilet is in the foreground on the right. There also is a unisex universal toilet at the back on the right.
Approach
There is a slope with textured paving blocks leading to the toilet building. There also is a slope with a handrail.
Point facilities
When sat on the seat of the unisex universal toilet's seat, there is a movable handrail on the left and a fixed handrail on the right. On the right side wall there is a flush button. The cubicle also has a baby bed and a luggage holder.
Map of surrounding area