[Facility]

Okuhiei Driveway

7:00-23:00 (24:00 in Jul & Aug, Dec-Feb: 9:00-19:00)*Operating until 1hr before closing, *May close due to bad weather
*Two-wheel vehicle use forbidden on Sun & Hols (only on Oku Hiei Driveway)
Universal (Wheelchair Friendly) Toilets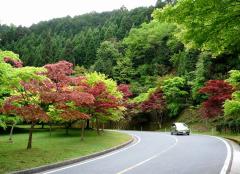 This is an 11.8 kilometer long scenic toll road taking in the east and west towers of Enrayku-ji Temple and Yokokawa before exiting at the Oki gate close to the shore of Lake Biwa.

Along the route stand more than 1000 cherry trees of some 40 varieties, which come into bloom at the end of April and beginning of May in the Golden Week holiday period (changeable depending on weather), and are a sight worth seeing. Also, early summer offers wonderful views of fresh verdure while the fiery reds of autumn are sight to see too. In all, this driveway offers a pageant of nature all year through.

On the way, there is the Hieizan Hodo Restaurant where views of Lake Biwa can be enjoyed over refreshments.
Tel
077-578-2139
Fax
077-579-2107
Homepage
http://www.hieizan.co.jp/
Charges
[Discounts for disabled] Available * Must present Disability Card
[Charge] Toll (one way): 2-wheel vehicle: ¥1080, Micro and small vehicles: ¥1540, Micro-bus ¥3860, Cargo vehicle: ¥1540, Private hire bus/Large bus: ¥6170
Remarks

[Parking] Available in 4 locations
[Wheelchair marked parking] None
[Wheelchair friendly toilet] Enryakuji No. 1 carpark, Hodo Restaurant carpark, *During Driveway operating hours
[Services] 1 wheelchairs available (ask at Enryakuji No. 1 carpark office)
---