[Facility]

Imamiya-jinja Shrine

[Hours] Variable
[Hols] Open all year round
Unevenness (five or more centimeters)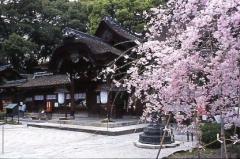 This shrine was established to assuage plagues that were prevalent back in the Heian period. Chinka-sai (Buddha's birthday festival) to assuage plagues are held with a red-headed ogre and a black-headed one dancing to flute-and-drum music. And, if believers stand under large flower-decorated umbrellas called Furyugasa, they will be safe from the plague. This is noted as one of the three bizarre festivals of Kyoto. This shrine also is noted for helping women to marry into wealthy families, or tama-no-koshi, with the origin to this belief coming from the woman Otama who was a daughter of a greengrocer, but when seen by the third Tokugawa shogun Iemitsu, she soon became his concubine, and gave birth to the future fifth shogun Tsunayoshi and she herself became known as Keishoin. So, when people went to worship at local Shinto shrines, they purchased little amulets called "tama-no-koshi", with the "tama" part referring to Otama. In the grounds also there are stones. If one is tapped three times, and then lifted, and feels heavy, but is then rubbed three times, and then lifted, and feels lighter than when first lifted, the wish of the lifter will come true.
There are many steps and gullies in the grounds, so wheelchair users will need assistance. (Month checked: 2018.Dec, )
Location
21 imamiya-cho murasakino Kita-ku,Kyoto, 603-8243
Tel
075-491-0082
Fax
075-491-8944
Access
City Bus Imamiya Jinja-shrine-mae Alight and short walk
Charges
[Discounts for disabled] Entry to grounds is free
[Charge] Entry to grounds is free
Remarks

[Parking]44 cars
[Wheelchair marked parking] None
[Wheelchair friendly toilet] None
[Services] Multi-lingual pamphlet (English pamphlet costing ¥110)
[Areas where shoes are forbidden]Entry is possible if wheelchair tires are wiped or covers mounted (worshiping areas)
[Remarks]Wheelchair users wishing to park cars will be guided to parking that provides easier access.
Highlights & Barrier Free Info
Unevenness at Higashimon gate of Imamiya-jinja Shrine

The Higashimon gate has a step of seven or eight centimeters high, which is difficult for wheelchair users to negotiate on their own. So, to enter the grounds, head for the path on the left of the gate as you face it from outside, and enter from the space for cars on the west side of the Romon tower gate.
gullies in approach to Imamiya-jinja Shrine

There are gullies (18 centimeters wide) between the flagstone approach and graveled areas at the sides as well as another gulley (13 centimeters wide) in front of the Honden hall, so be careful. Wheelchair users will require assistance.
Steps in front of main hall at Imamiya-jinja Shrine

A flagstone path leads up to the Honden hall, but as there are two steps, it is best to view the hall from in front of the steps.
---