[Facility]

Sagano Scenic Railway

[Hours & Hols] * See homepage for details
Guide Dogs
Equipped with Slopes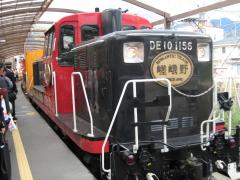 A disused rail line, the old JR Sagano Line between Sagano and Umahori Station in Kameoka (a distance of approximately 7.5 km taking 25 min), was reopened in April of 1991 for a sight-seeing truck train. The train affords passengers views of the changing seasons of the beautiful ravine of the Hozo-gawa River, with the cherry blossoms of spring, green verdure of early summer, the river view of summer and the bright crimson hues of autumn.
Strolls can be taken in Sagano by getting off at Arashiyama Station and countryside hikes by getting off at Hozo-gawa Station; however, steps and barriers make using the train difficult for wheelchair users.
There are toilets that anyone can use at hand both ends of the route to offer a reassuring sight-seeing experience.
Homepage
http:/www.sagano-kanko.co.jp/index.html
Access
(Torokko-Saga Stn.) Alight at JR Saga Arashiyama Sta.:Alight and 1-min walk
Charges
[Discounts for disabled] Disabled person: Half price, One assistant: Half price
[Charge] General public:¥600, Elementary Sch students: ¥300 *Normal fare (one way)
[Group discount] 15 or more people: 10% discount
Remarks

[Parking] 30 cars, 4 buses
[Wheelchair marked parking] None
[Wheelchair friendly toilet]Torokkosaga Station, Torokkokameoka Station *Available at Torokkoarashiyama Station but stairs make access difficult
[Services] 1 wheelchairs available/Textured paving blocks /Guide dog/Multi-lingual pamphlet (English, Chinese, Korean, Taiwanese, Thai)
[Movement] Equipped with slopes (Saga and Kameoka stations)/Passageway is more than 90cm wide
*Phone Torokkosaga Station (Tel: 075-871-3997) 2 days in advance for installation of boarding/alighting slopes.
---