[24hr]

Kyoto Tourist Information in 7-Eleven store at Aburakoji-Kujo

Free/24hr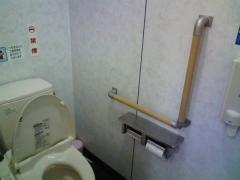 Gender Specific
Bidet/Auto Flush
Kyoto Tourist Information available free of charge in Kyoto Aburakoji-Kujo 7-Eleven store.

If a staff member is informed, the toilet can be used free of charge.

Also feel free to drop in to the store to pick up a Kyoto sightseeing map. And, if you have any questions about local tourist spots and the use of public transport, the shop assistants will do their best to help.

Toilet Info

| Western style | Squat style | Handrails |
| --- | --- | --- |
| ○ | - | ○ |
| Door type | Door width | Step |
| Push | 65cm | - |
| Mirror | Coat hook | Baby chair |
| ○ | - | - |
| Emergency switch | Opening the door from the outside in the emergency | |
| - | ○ | |
Parking Info

| Parking | Parking for the disabled | Charged parking nearby |
| --- | --- | --- |
| ○ | - | ○ |
Store Interior Info

| Wheelchair turning (Approx. 140cm corner) | Corridor width of 80cm or more | Customer counter is 75cm high or less |
| --- | --- | --- |
| - | ○ | - |
| Entrance has automatic double doors | Exterior inclines and unevenness can be seen | |
| - | ○ | |
---