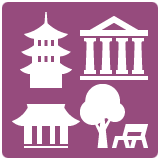 Kotobuki Toshun [Hours] 9:00-17:00
[Hols] 13 to 17 Aug, 27 Dec to 5 Jan, Sun & Nat Hols in Dec, Jan and Feb
Set in Kiyomizu-Danchi, a pottery district in Kyoto, this Kiyomizu-yaki studio offers visitors the chance to watch potters at work in the various ceramic processes. Also, visitors can make or paint a piece for themselves in the ceramic workshops. These include either making a piece of coil pottery on a hand wheel or painting a bisque cup or mug. Finished pieces will be glazed and fired for the visitors and sent to them at a later date. This studio also has a pottery shop where purchases can be made.
Basic info
Location

7-2 Kawata Kiyomizuyaki-danchi-cho Yamashina-ku,Kyoto, 607-8322

Tel

075-581-7195

Fax

075-502-8686

Homepage

Access

Keihan Bus from JR Yamashina Sta. to Kiyomizu Danchi: Alight and the destination is there, Keihan Bus from Shijo Kawaramachi to Kawada: Alight and walk about 3min

Charges

[Discounts for disabled] Visiting free, Pottery classes charged but discount offered to disabled person and one assistant * Must present Disability Card
[Charge] Visiting free, Pottery classes are charged: Decorating: ¥1365-, Hand-building pottery: ¥2940
[Group discount] Available * Booking required
Barrier info
[Parking] 30 cars, 12 buses
[Wheelchair marked parking] None
[Wheelchair friendly toilet] None
[Services] Staff will act as guides/Guide dog
[Entrance inside facility] Manual doors, No intercom
[Movement] Passageway is more than 90cm wide , No unevenness
Map of surrounding area