【An undeveloped woodland area near a village
where temples and nature are harmonized 】
Ohara walking course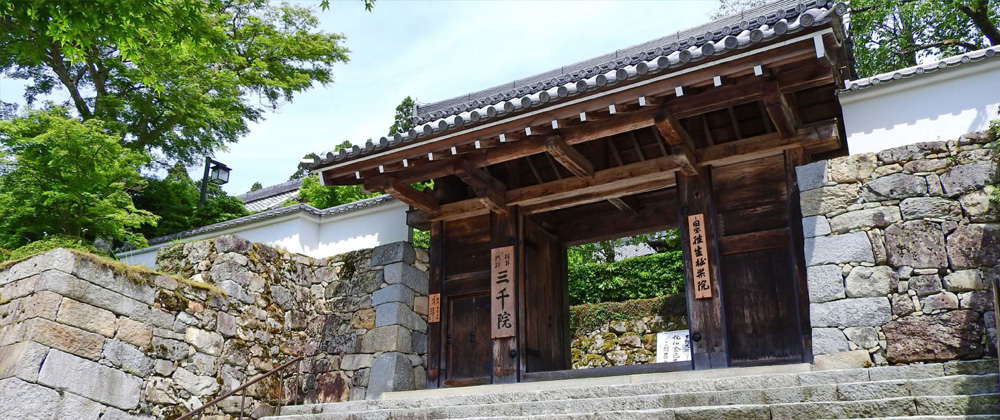 Sanzenin

Jakkoin
Start!
Ohara(Kyoto City Bus)

Sanzenin

In the Enryaku period (782-806), Saicho (founder of the Tendai sect) built a small thatched retreat in Ohara, which was the start of Sanzen-in and a link with the "east tower" (Enryaku-ji) of Mount Hiei. The main image is Yakushi Nyorai (healing Buddha), which is withheld from public view. From the Shinden hall the Ojo-Goraku-in Temple (the symbol of Ohara) can be glimpsed amidst a vista of moss and giant cedar trees. Ojo-Goraku-in was built in the Heian period (794-1185) and is now designated as an important cultural asset. An Amida Triad (national treasure) is enshrined in the temple's main hall, which also is famed for its funazoko tenjo(wooden ceiling shaped a boat bottom). In autumn 2006, a copy of the original was made to depict the rich colors of the ceiling, a nd t his is n ow o n d isplay w ith other temple treasures.
Multilingual p amphlets a re a vailable f or t he m any international tourists who visit the temple. Also, the routes around the grounds are wide and equipped with slopes to make wheelchair visits safe and pleasurable.

| | |
| --- | --- |
| |  Universal (Wheelchair Friendly) Toilets |

Jakkoin

This is a nunnery of the Tendai sect, said to have been built in the year 594 by Prince Shotoku as a memorial for his father, Emperor Yomei. It is also famous for being the location where Kenreimon-in, daughter of Taira no Kiyomori, empress-consort of Emperor Takakura, and mother of Emperor Antoku, lived her secluded life 800years ago.

| | |
| --- | --- |
| |  Jakkoin Public toilet |




Goal!